Real Talk with Roderick Barnes
Seeing the Good and Seeking Saul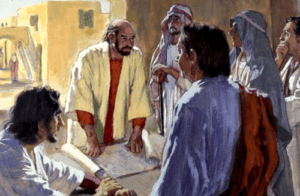 Barnabas was a brother with the tendency to see the beauty in things, the propensity to have a positive outlook, and the audacity to work in formerly forbidden regions with former foes of the faith. In this post we take a look at his bent and how it affects others.
The church in Jerusalem, upon hearing about the great turning to the Lord that was happening among the Gentiles in Antioch on the Orontes, sent Barnabas to investigate. Was it real outreach or just rogue religion being fabricated by dispersed disciples? Were people turning from sin to the Savior or just turning from one bad doctrine to another? Being well-trained in the Way and being a Cypriot (born in Cyprus) Jew by birth Barnabas was a logical choice when looking for someone to survey the situation.
So, the Son of Encouragement (Acts 4:36) traveled over 300 miles north to assess the situation. When he saw that the grace of God was bringing Gentiles to saving faith he did not recoil or find things to criticize: He was glad (Acts 11:23). He then went on to encourage the evangelists who had endeavored to bring the gospel to those who had not heard. I love this guy!
Rather than come up with a list of things they were not doing right or warnings against too much mingling with former pagans he encouraged them to "continue with the Lord." Barnabas could see that it was God doing the work through the intrepid souls that were sharing the power of God unto salvation. Their surrender, deep insight into the culture, and former preparation under the apostles had combined to make them especially well-suited for going off road and preaching Christ among unbelieving heathens. I love those guys!
But what impresses me most was how Barnabas goes beyond known borders to get help with the harvest. His thinking is so out of the box one wonders if he knows there is a box. Not too long ago when everyone else was afraid to be associated with Saul of Tarsus this man offered the former persecutor the right hand of fellowship and formally introduced him to the leadership in Jerusalem (Acts 9:26-27). And he never forgot Saul. Years later he is looking at the great need in Antioch and knows who can help: Saul of Tarsus. And so he seeks him out and brings him to help with reaching the lost and teaching the found. Probably not the play anyone else would have called. But God used them both to teach and mentor a great many people (Acts 11:26).
Saul's past sins were no match for God's great grace. If any man be in Christ he is a new creation. Behold all things have become brand new (2 Corinthians 5:17). Looking at life through the lens of the gospel Barnabas sees the good: there are new saints in Antioch. And he sees a great opportunity in seeking Saul of Tarsus – a brother that can help these saints to mature in Christ. Glory be to God!
In His grip by His grace,
Roderick L. Barnes, Sr.