What Does it Mean to Be Blessed? (Matthew 5:1-12; Romans 4:7-8; 1 Peter 3:13-14)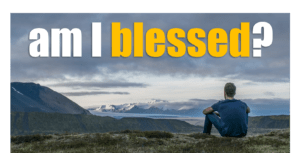 A proper understanding of the beatitudes requires a right view of what it means to be blessed (μακάριοι). Before Jesus used it in the opening of the sermon on the mount it was used by King David. After the Lord the term blessed was used by the men He mentored. If we take a moment to consider how blessed is used by (1) the Lord's forefather David and then (2) the apostles Peter and Paul we can better understand what Jesus meant.
Forgiven – Paul, in his letter to the church in Rome, says that blessed is the state of being forgiven. He is quoting King David when he writes
"Blessed are those whose lawless deeds are forgiven, And whose sins are covered; 8 Blessed is the man to whom the LORD shall not impute sin." (Romans 4:7-8, NKJV; See also Psalm 32:1-2)
Notice that there is no mention of physical health, material prosperity, or positions of power. Both Paul (and David before him), under the direction of the Holy Spirit, make repeated mention of being blessed as being forgiven. When my sins are no longer in view and the LORD does not account or impute them to me anymore, independent of my worldly standing, I am blessed. With their writing we see that being blessed is about having a right standing with God. There has been exchange of righteousness and wretchedness. The former is accounted to me through faith in Christ; the latter was put on Jesus as he suffered on the cross in my place.
Follower – When all is well between me and the world I am apt to think that I am blessed. That could be the case. However, friendship with the world is enmity with God (James 4:4). A better indicator of being blessed is persecution. Not being punished for wrongdoing – that is prosecution. When I am mistreated for being a Jesus follower I am being persecuted (Matthew 5:11-12). When I am persecuted for association with Jesus and the practice of righteousness I am showing in my conduct the conversion that has taken place inside. The response of the world to my new nature is confirmation that I belong to Christ. The world, when I am being Christlike, is responding to me as it responded to Him. Peter puts it this way:
13 And who is he who will harm you if you become followers of what is good? 14 But even if you should suffer for righteousness' sake, you are blessed. "And do not be afraid of their threats, nor be troubled." (1 Peter 3:13-14, NKJV)
The sign of being blessed is seen in suffering for righteousness' sake. Jesus says that when this happen we should rejoice (Matthew 5:12); the indignation of the world toward me is an indicator that I am now a foreigner, that I have received his favor, that there lies before me a bright future, and that I am in fellowship with the prophets who also suffered for doing the will of the Lord – the winner's circle.
Family – But why is it that I am being punished for following Jesus? Why is being blessed so painful? It is the consequence of keeping company with Christ. When you and I make a decision to trust Christ we are spiritually moved out of the world and into Him (Ephesians 1:13). Trusting in Christ is inseparably bound up in being baptized into Christ (1 Peter 3:21). The entering in of the Spirit is the beginning of new life in Christ… and outside of the world. The transition from the world to the kingdom of God through receiving the Spirit does not go unnoticed.
14 If you are reproached for the name of Christ, blessed are you, for the Spirit of glory and of God rests upon you. On their part He is blasphemed, but on your part He is glorified. (1 Peter 4:14, NKJV)
Peter says that the reproach or injury and disrespect that you experience is actually aimed at Christ and comes because "the Spirit of glory and of God rests upon you." The conflict that you are experiencing is being caused by being in Christ. You are now part of the family of God and are by virtue of your new nature a constant reminder that the world is (1) in rebellion and (2) it's lawless deeds will not go unpunished.
So then, what does it mean to be blessed? The term is used nine times in the opening of the sermon on the mount. It means that it is well with my soul especially while at odds with sinful society and the program of Satan. It means that I am forgiven of my sin.
In His grip by His grace,
Roderick L. Barnes, Sr.
Lead Pastor
Communion Chapel EFCA