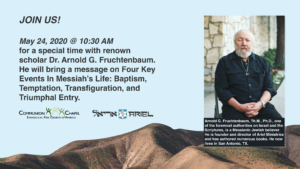 On 24 May 2020 at 10:30 AM Communion Chapel has the special privilege of Dr. Fruchtenbaum bringing the message. His message, Four Key Events in Messiahs Life, will cover the Baptism, Temptation, Transfiguration, and Triumphal Entry of Jesus. You can view the message as it is streamed live through our live stream page:
https://communionchapelefca.org/communion-chapel-live-stream/
Please join us in praying that many will hear the message and that it will be used by God to help others in believing in and walking with Jesus.
In His grip by His grace,
Communion Chapel Servant Team